Congratulations Schlegel Villages on your recent CARF accreditation with "Exemplary Performance"! Java Music Club is honored to have played a role.  Schlegel Villages newsletter.
From www.facebook.com/schlegelvillages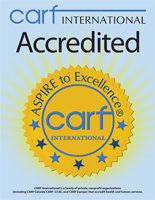 "We are pleased to announce that Schlegel Villages has been awarded a Three Year Accreditation award!
Two areas of Exemplary Performance noted by the surveyors were;
A. LEADERSHIP: The education and training opportunities that leadership offers its employees are remarkable. The Living in My Today program is one example of how leadership brings the best practices to the team. All employees who serve residents with dementia are given this innovative new training program. This program is also an example of how Schlegel Villages puts research into practice as it was developed, tested, and implemented in partnership with the Murray Alzheimer Research and Education Program. The Research Institute for Aging that the Schlegel family has created is another example of how the organization goes above and beyond to develop resources for personnel and the field of aging services. This is an exemplary undertaking that is very unique.
B.PERFORMANCE IMPROVEMENT: The Java Music Club is a mutual support group for residents with cognitive impairments that is managed by residents, and volunteer staff. The organization began the program due to low scores in the area of resident engagement on its Quality of Life survey. Implementation began with six communities and upon evidence of improvement indicated on the Quality of Life survey, the program was brought out to other communities. Evaluation results indicate that it has significantly increased Quality of Life at the Villages where it is implemented. The program itself is unique, but the manner in which it was evaluated across the Villages is an excellent example of using data for performance improvement."